2021 Local Digital Event Series:




Retail - Holiday Shopping



September 28, 2021 at 1:00 pm EST
Join BIA and SalesFuel for our monthly Local Digital Event Series covering the super verticals:

Retail - Holiday Shopping.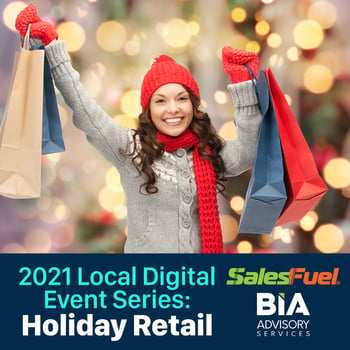 Holiday shopping could rise to pre-pandemic levels with consumers returning to their previous buying patterns. Consumer confidence is up and consumer fears surrounding product availability and delivery delays are subsiding. Categories like toys, jewelry, electronics, sporting goods, furniture and flooring stores are all expected to be strong this year, which means more competition for local retail advertisers.
In 2020, consumers shopped slightly more online, and it's expected this trend will continue in 2021. In fact, some analysts estimate that this year close to a third of all holiday shopping will be done online.
Join us this month as we look at the key retail verticals for the holiday season and how you can lock in local advertising dollars. By attending this webinar you will learn:
Top media capturing local retail advertising dollars and the different types of digital ad inventory retail advertisers are spending their money on.

Current market trends for consumers and retail advertisers.

Tactical recommendations for media sellers and digital marketers.

Digital selling strategies to power up your local sales teams.

As our guest, you will also receive a one-pager filled with
valuable data and insights about the super verticals we are covering this series.

Register now!
---